Author Ele Fountain Visits Hanley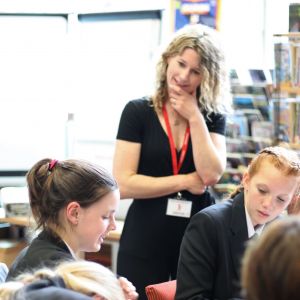 The English department at Hanley were delighted to welcome Ele Fountain to school on Friday 7th June to discuss her new book: "Boy 87".
Pupils in Year 7 and 8 were able to learn about what inspired Ele to write about the plight of Shif, a refugee boy who has to flee his country without his family.
Pupils found this particularly interesting as they could make connections to the English work they have been doing on "diversity" in literature where students are able to understand and appreciate some of the more complex issues in the wider world.
In addition, some pupils also had the chance to take part in a special creative writing workshop where Ele was able to impart her expertise on the process of planning and writing a story with pupils creating their own novel ideas!
The pupils, as always, made it fantastic day and a special thanks must go to our librarian Mrs Webber, who orchestrated and organised such a wonderful visit.
Kerry Stock