GB Show Jumping Call Up for Hanley Castle Student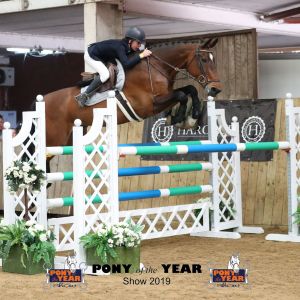 Meredith Mindermann, Year 9, was excited to learn that she has been selected to jump for Team GB in Lamprechtshausen, Austria.
Meredith is riding in a league called 'Children On Horses' which includes young people from the age of 12 to 14, with the height of fences between 1.25m and 1.30m. The team members were selected at the Chepstow International Viewing Trials, last weekend, where Meredith won one class and came 2nd in the Grand Prix. After the 'Lap of Honour' she was told the very exciting news that she would be part of the GB team competing in Austria later this month.
The competition starts on Wednesday 15th May with a 'trot-up' and veterinary inspection, followed by jumping classes on Thursday and Friday. The highlight of the trip will take place on Saturday when riders from all of the different nations represented compete in teams for the Nations Cup. Sunday will see the final event of the trip, the Grand Prix.
The logistics of competing in international equestrian sports are challenging. Meredith's two horses will be travelling by road across the Channel and through Europe. Meredith will set out a little later, on Monday 13th May, to fly to Salzburg.
Meredith and her family have a long and illustrious pedigree in show jumping and we wish her every success as she takes this next step to international stardom.
Lindsey Cooke