Grant Thornton Winners' Trip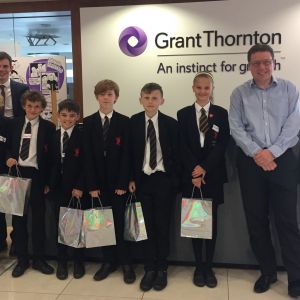 Following a fabulous project that Grant Thornton have been kind enough to run with our Y7 students this year, Mr Smith last Friday took the winning team to the Grant Thornton offices in Birmingham as part of a winners day.
This team had raised the most money through their business idea that they ran in school. They really enjoyed the day learning about what it was like to work for Grant Thornton and the different skills developed in the various job roles within the company. They also took part in a challenge to come up with a creative idea to tackle what they thought was the biggest problem facing our world today.
They represented the school fantastically well and the Grant Thornton staff expressed how pleased they were to see their enthusiasm and creativity throughout the day.
Thanks so much to everyone involved who has generously given up so much time.