National Schools Equestrian Championship 2019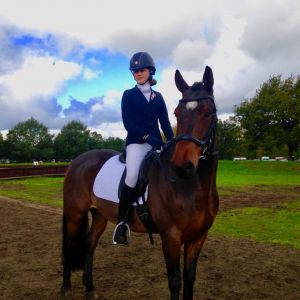 Over 244 schools across the country were represented at the NSEA Championships at Addington Manor Equestrian Centre, Buckinghamshire. Only teams and individuals that had finished in 1st or 2nd place in their regional qualifier were able to represent their school at this national event. With over 150 competitors in some classes, the standard was extremely high and very competitive.
Felix Westgate-Wilton was first up, as an individual in the 70-75cm Show Jumping class. He completed a very fast round in 25 seconds, just outside the jump off time. A great experience as one of the youngest in the class.
In the Dressage Team Millie Calvesbert and Isabel Georgetti were first up in the Prelim class. Sadly Millie had to pull out at the last minute due to an injury, so Felix Westgate-Wilton stepped in to support the team. Isabel rode a fantastic Prelim test to score an incredible 72.88% and finish 5th overall in her class. Isabelle Litchfield and Olivia Georgetti both rode superb Novice Dressage tests in both the Team and Individual competitions and were very supportive to the younger members of the team. 
The team from Hanley Castle were great ambassadors for their school and showed great team spirit. Any riders that would like to represent the school at future NSEA competitions (Show Jumping, Dressage, Jumping with Style and Eventing) are welcome to get in contact.