Visit to Bali!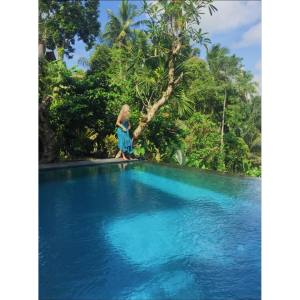 As we approach another holiday with no access to foreign travel, one of our Y12 students - Connie McCabe remembers her trips to Bali and describes her fabulous cultural experience: 
Bali – My experience
Bali, Indonesia, a place where nothing goes unappreciated by locals, known for its picturesque rainforests, iconic rice paddies, soothing yoga, gorgeous waterfalls, glorious mountainous areas and white sand beaches. I visited Bali in 2017 and 2018, after the tiring 18-hour flight, I stepped into a place I'll never forget, to this day it is the best country I've ever been. Both my trips began with a week in the tropical rainforests of Ubud and Pondok; £7 three-hour taxis and £5-hour long massages encased me (fresh fruit too!). The Balinese people are the most selfless people in the world, so happy with so little, following their spiritual ways. The morning sunrises and you notice tiny offering, known as canang sari, consisting of a thin stick of burning incense surrounded by vivid flower petals. They're everywhere: by shops and homes, on statues and temples! Ubud manages to maintain its charm with beautiful infinite pools overlooking rainforests and mischievous monkeys, all in despite of the heavy inflow of tourists. From ancient to present-day, Ubud exhibits tranquillity through spiritual sites featuring classic architecture, temples and museums (there are monkey forests).
Next was Nusa Dua and Seminyak, South of Bali, AKA surf city, its a stylish beachfront city that offers a synthesis of Balinese charm and beach attraction. Everyone gathers on evenings on beaches, relaxing by the sunset to live music. Lastly, my personal favourite… although not in Bali, a 30-minute ride will take you to the amazing island of Nusa Lembongan, and let me tell you, it was the most beautiful place ever! The whitest sand I've ever sea, turquoise sea, litter free, manta ray snorkelling etc. You just take a small boat or paddleboard through the mangrove forest in Nusa Lembongan and you can relish in clear waters and composure. Lembongan has all year-round surfing, the temperature never drops below 25 degrees! Although I haven't tried surfing in the past, I'll be sure to in my gap year!
Visit Bali!
Connie McCabe Y12