Y7 & 8 Infinite Group visit Anne Frank Exhibition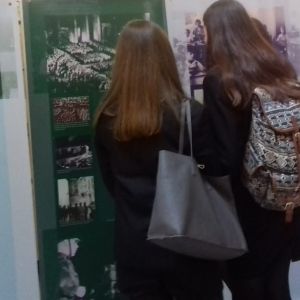 On Thursday some students from our Infinite (Stretch and Challenge) Group visited the Anne Frank exhibition at the Hive in Worcester. We asked them what they would tweet about it:
The Anne Frank Exhibition was very interesting and inspirational. I learnt lots about the horrific times of WW2 and how people still hoped for a better life. Thank you for the opportunity to go. By Beth
The Hive; Anne Frank Exhibition. Year7/8 Infinite students. A time of remembrance of the atrocities committed during the Holocaust. By Ed.
I really enjoyed this moving, educational experience. It filled me with respect and sadness for the victims of the Holocaust. By Willow
Yr 7/ 8 Infinite trip went to The Hive this morning to learn about the Holocaust. I can't believe that anything like that and the terror it caused could ever happen. #Terrifying. By Luke.
An inspiring story of Anne Frank's bravery and courage. A very moving expedition, well worth while. @The Hive Worcester. By Alex
I found out so much information that I had never thought of before. It was very moving to see and read her thoughts and feelings. It was amazing really! By Phoebe
Yr7/ 8 Infinite students @The Hive. We learnt about Anne Frank and her struggle living in the annexe and what she went through afterwards. She is an inspiration to many people and her spirit lives on in her diary. By Daniel